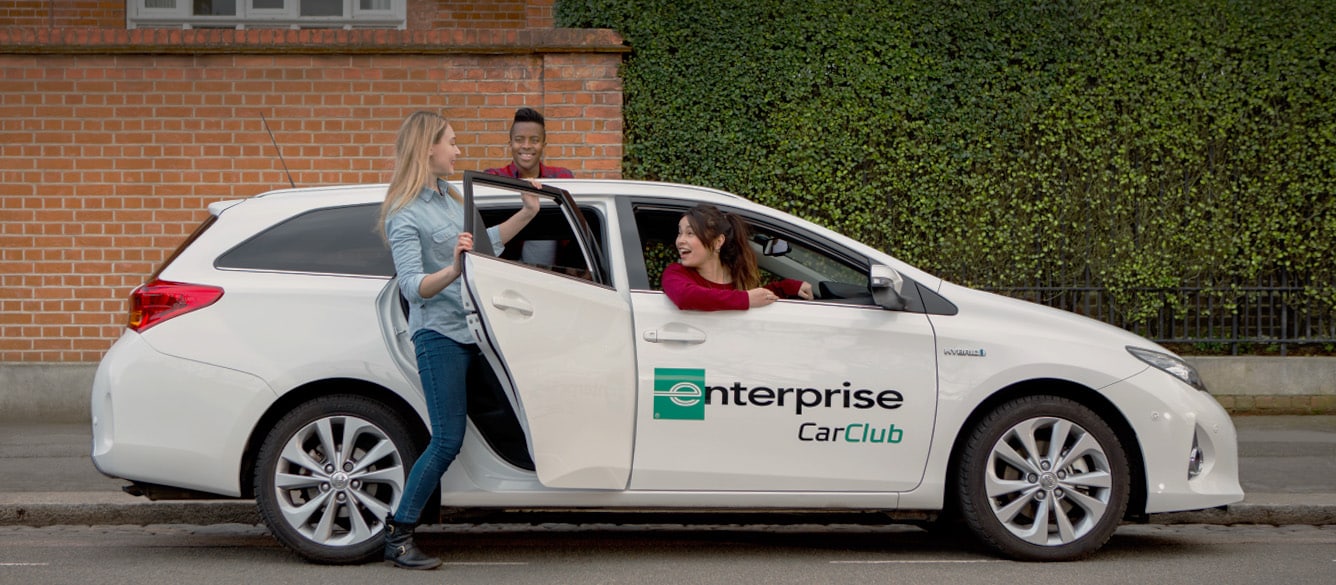 As I've said before, one of the problems of living in a new development that's intended to be eco friendly is that there are not yet really enough alternatives to private car use, so most residents still feel that having one or more cars in each household is necessary to ensure they can get to the places they need to get to. Consequently we have too many cars, which clog up the streets and are sometimes parked insensitively in places intended for pedestrians and cyclists. And most cars are parked for 95% of their lives (if you don't believe this it's proved in Donald Shoup's book 'The High Cost of Free Parking' – see my previous blog).
So is the car club an answer?
Nottingham has an established car club, run by Enterprise, with cars based at various points around the city, mostly in and around the city centre. Being a member of the club means that you can hire one of the cars for an hour or more (its an easy arrangement to make using an app) use it for whatever specific purpose and then return it to its place within the time limit. There is a charge for joining the club and a further charge every time you use a club car. The advantages are the ease of hiring a car, often at short notice,  and the fact that you can hire a car for just a short period, which is quite cheap. You can get more information about the car club here and there is a short film about how it works here.
I say cheap, but it is important to remember that much of the cost of owning a car is actually hidden as its in the form of one-offs that often get conveniently forgotten about (buying it, insuring it, repairing it, fuel) and not generally in the form of 'pay-as-you-go' like the car club. However if you do work it out, and count all the costs, it is much cheaper than keeping your own car. As well as being much more environmentally responsible.
As well as that – all residents at Trent Basin (so far!) have a special deal which means they can join the club for FREE for two years (all Nottingham City residents can join for £30, its normally £60) and also we lucky TB people get a £50 voucher and 10% off as well. It's a really good deal. However until recently the car club has been of limited use to us because the nearest cars are based too far away, so you would have to walk to the car, drive it to where you are going, park it back where you picked it up and then walk back (or cycle). It just wasn't practical. But now we have a car based at the end of Trent Lane, at Enterprise's offices. This is about as far away as our nearest bus stop, which I'm told is 400m though personally I think its further than that.  Anyway, its 5-10 minutes walk, depending on exactly where you live.
So will this make any difference? Well – it will be interesting to see. I've just joined the Nottingham car club, and I'm hoping that others will too. I've actually been a member of a similar car club in the past, when I lived in Edinburgh and found I just didn't need my own car, so I got rid of it. I didn't actually use the car club very much then simply because I'd already got used to the excellent public transport there, and also cycled quite a bit. While Nottingham has got equally good public transport generally, its not that great for TB residents yet (stop is quite far away and buses only at 15 minute intervals, none on Sundays or evenings). It will improve as more developments are completed along the Waterside corridor.
However, cycling is good here, and I currently do short trips by bike, though I use our shared car for shopping and longer trips (or when there are major hills involved!) We recently did a 'try-before-you-buy' e-bike hire,  see here, which was very successful and we're definitely going to get one, maybe for Christmas. This could take care of some of the hilly longer trips. So what's left for a car club car?
It does quite a good job of reducing the need for a second (or third) car in a household, especially if the second car is only used occasionally – in fact only when the first car is not available. And it's particularly useful for 'special' shopping trips – like going to Ikea – and you can even hire a transit van on the same basis if you plan to buy lots. It is more efficient for shorter hires – if you plan to drive somewhere that takes all day it's often cheaper to just hire a car in the normal way, and if you are just going to the supermarket it may be cheaper to walk or get public transport there and get a taxi back. But for those middle-sized journeys that are not easy by public transport and/or big loads are involved – it's great. It fills the gap.
I want to encourage TB residents to take up the offer and give the car club a try. Our local car in Trent Lane is a Toyota hybrid, but if you do take that longer walk there is an Nissan Leaf on Manvers St, so you can also try an electric car.
I'm going to give it a go anyway!
Wildlife update: I saw a Common Tern over the dock, it was amazing watching it circle round, stop dead in the air, and then dive down for fish. I'm told there are also kingfishers about, though I've still not seen one myself.